Betty Stagg-Turner Scholarship
Butler Country Warbirds is pursuing the creation of an aviation scholarship for women in honor of our friend, Betty Stagg-Turner.
Betty was a member of the
WASPs, the famous Women's Air Force Service Pilots of WWII
. As a graduating member of Class 44W-9, one of Betty's favorite memories was of her time in the North American AT-6 Texan. Therefore, we thought it fitting to honor her memory and use this historic aircraft to fund the Betty Stagg-Turner Memorial Scholarship Fund. This scholarship will be awarded to women and used to assist ladies in starting or advancing their aviation careers.
Once we have obtained an AT-6 via our AT-6 Acquisition Project, a portion of each ride sold in the AT-6 will go into a scholarship fund and will be awarded annually to a female applicant seeking a career in aviation. This can be used for training as an
air traffic controller, flight attendant, mechanic, pilot, and more.
More details will come as the project nears its conclusion. If you would like to participate in promoting or contributing to this future scholarship, please contact michelle@bcwarbirds.com and provide as many details as you can. You can also donate to the Acquisition Project through the following Paypal link: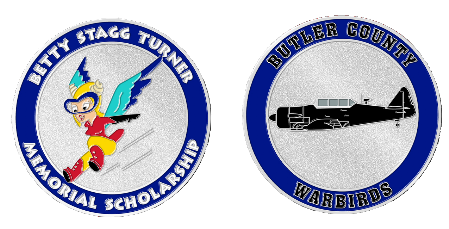 Receive this custom challenge coin with a $50 or greater donation. Estimated ship date: Early January 2023.