Betty Stagg-Turner
Group VIPs
Betty Stagg-Turner served as a Woman Air Service Pilot (WASP) during World War II. She graduated from class 44-W-9 at Avenger Field in Sweetwater, TX. During her time in service, she piloted several aircraft, from the PT-17 to the B-24. Her contributions to our WASP display shows a few small glimpses of one of the most unique group of volunteers in military history. Unceremoniously told that they were no longer needed, the remaining WASP members were sent home without VETERAN'S STATUS nor benefits. All were forced to pay their own way home. Many found work in other aviation related fields. Betty was soon employed as an aircraft dispatcher.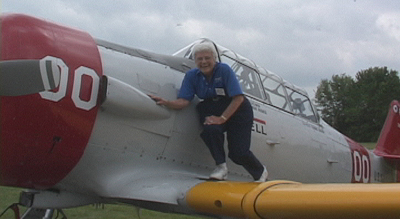 We regret to say that Betty passed away in December of 2003.
She will be sorely missed by all of us at BCW, as well as the airshow community. This photo was taken at Blue Ash (OH) Airport Days. Thanks to Mr. Jim Brown of Hartzell Propellers for allowing us the opportunity to recreate the photo that was the basis of her book's cover photo.
Photos provided by Betty: